What is Bankruptcy Fraud?
Bankruptcy fraud is a white-collar crime that can take several forms:
Transferring or concealing assets so as to not have to forfeit them
Intentionally filing false or incomplete forms by failing to disclose all income earned from all sources, for example
Filing for bankruptcy multiple times with different identities or phony information
Filing in multiple states
Lying on credit applications and/or accumulating debt right before filing for bankruptcy
Filing bankruptcy to benefit from the automatic stay to avoid repossession or foreclosure
Bribing court-appointed trustees
Of these, the majority of bankruptcy fraud cases—nearly 70 percent—involves asset concealment because creditors are only able to liquidate assets the debtor claims. Thus, if the debtor intentionally withholds certain assets, unless their actions are discovered they oftentimes can keep them even amidst bankruptcy proceedings. In some extreme cases, debtors will transfer hidden assets to friends, family members, or business associates.
Elements of the crime of bankruptcy fraud
Bankruptcy fraud is a crime pursuant to Title 18 of the United States Code, chapter 9, sections 151-158 (18 U.S.C. § 151-158). In order to successfully bring a charge of bankruptcy fraud against a defendant, the prosecutor must show that the defendant knowingly and fraudulently misrepresented material facts such as income and assets.
Bankruptcy fraud is punishable by up to five years in prison and/or a fine of up to $250,000 for each count. Courts take into account the seriousness of the offense and the defendant's criminal history, if any, in sentencing.
Bankruptcy fraud in the news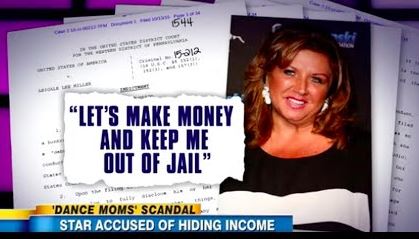 A recent high-profile bankruptcy fraud cases involved Dance Moms star Abby Lee Miller who pleaded guilty to bankruptcy fraud after being indicted on 20 counts of attempting to conceal nearly $755,500 in income obtained during 2012 and 2013 from her television shows (Dance Moms, Abby's Ultimate Dance Competition, Abby's Studio Rescue) as well as dance lessons, apparel sales, and other projects. She eventually admitted in 2013 that she possessed undisclosed checks totaling approximately $288,000 but was given a favorable, six-year debt restructuring plan but suspicions remained.
Miller claimed that her income was not guaranteed because of her show's "volatility"; however, emails and television commercials demonstrated that Dance Moms had been renewed for another season. When the trustee overseeing her case saw her on television, he doubted she was completely forthcoming. All of her statements taken together raised suspicions and the court ordered her to disclose additional financial records. Instead, Miller's efforts to conceal her assets increased as she allegedly opened additional accounts, had checks made out to other people, created shell companies in other states, used Square and PayPal to deposit funds, and held on to uncashed checks, planning to deposit them after her bankruptcy was finalized.
What does bankruptcy fraud have to do with you?

Granted, most people are not reality television stars or otherwise famous; however, the vast majority of individuals do participate in some form of social media and use email. Therefore, it is critically important to realize that anything—comments, pictures, etc.—posted on social media sites like Facebook, Twitter, and Instagram is fair game during bankruptcy proceedings. As for email, Reuters reported that certain emails between Miller and her accountant where she specifically instructed him not to deposit any money in the bank were ultimately used as evidence against her, so it is also important to be prudent with electronic correspondence.
The bottom line: don't do it
Bankruptcy can be a lifesaver for those genuinely overwhelmed by debt. But bankruptcy fraud is costly for everyone because lenders become more cautious and raise costs associated with lending to cover their risk of losses. Ultimately, these costs get passed on to other people seeking to borrow money.
Do you have questions about a bankruptcy filing, and/or concerns about anything which may constitute bankruptcy fraud? Contact South Bay Bankruptcy Attorney Barbara Craig today to schedule a free, confidential consultation and learn about your options for getting relief. Serving clients in San Pedro, Lomita, Palos Verdes, Torrance, and other area communities.